Oversized sex toys for size queens
Using extra-large sex toys can present a fun challenge that could be hella fun and even bring in more income on SinParty.
Being able to take extra large sex toys in your pussy or ass makes you a size queen. Enjoying big dicks and dildos is a kink or fetish that your partygoers will pay good money for.
It's not always easy to find the right person with a dick big enough to satisfy your needs. Even when you do have access to a big dick, changing things up is fun for you and thrilling for your content buyers.
That's were super-sized sex toys come in. If you're new to being a size queen or just want to up your girth game, we've got the toys for you, including:
A chubby dildo to get you stretched wide
An extra-large glass dildo
A really big butt plug
And more sex toys to satisfy your love for size.
A classic, extra-large sex toy
The Ultra Real-Skin Dildo – Large
Ease yourself into the world of extra-large sex toys with this Ultra Real-Skin Dildo that's fairly unintimidating but still is pretty impressive in size. It's nearly 8 inches in insertable length and around 6 inches in girth so you'll get a nice introduction to stretching and fullness to start out.
It's made from silicone with no latex included and needs to be used with water-based lube.
The good stuff
You can get it in one of three colors to match your partner or your customers' needs
It's got a removeable suction cup making it easy to use solo
It feels super life-like and fleshy so it's a good introduction to playing with a partner
Watch out for
The floppiness – it's not completely rigid so rougher insertion might not be possible
A fatter dildo to get your stretch on
King Cock Chubby
If you're more into girth than length, the King Cock Chubby is a realistic fatty that will get your ass or vagina open nice and wide.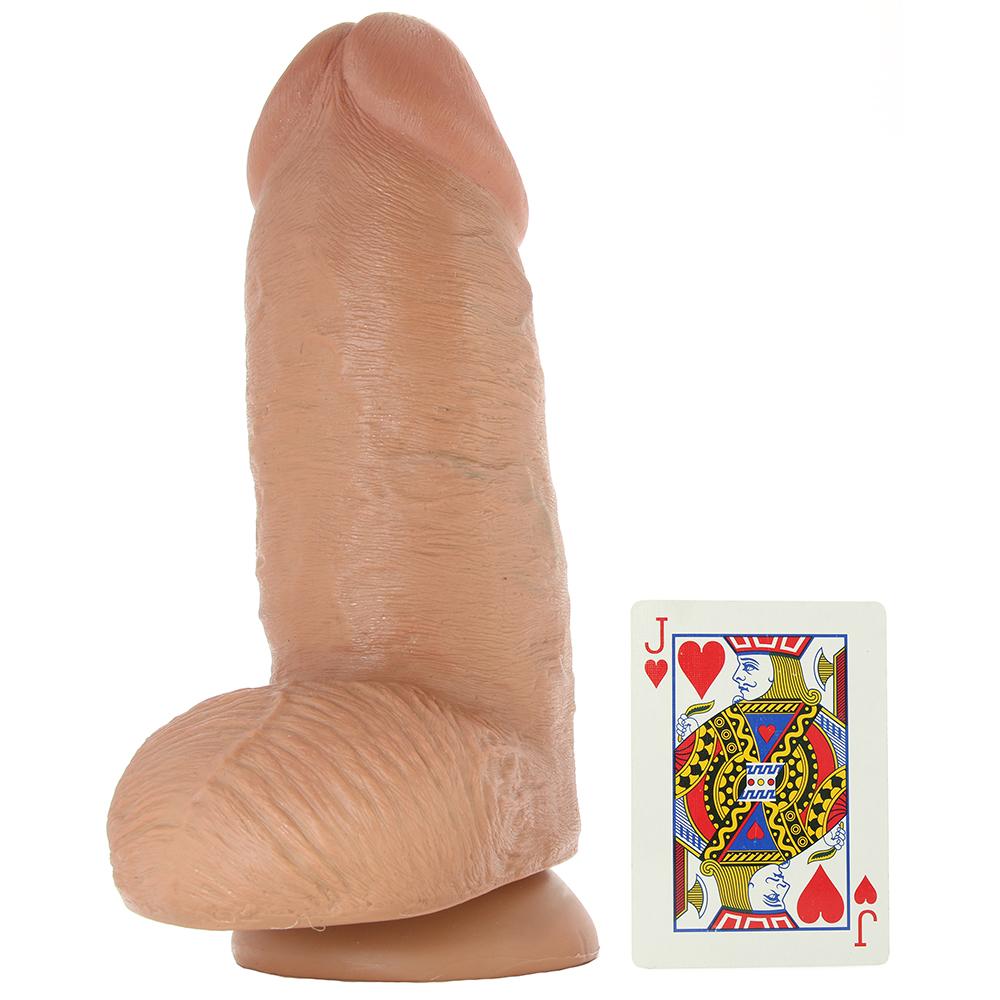 It's nearly 10 inches wide at it's girthiest point and 6.75 inches long, making it still longer than the global average penis size. The attached suction cup means going solo with this dildo won't be a problem.
The good stuff
It's phthalate-free and is perfectly safe to be used with water-based lube
The veiny texture and large head add a new dimension to your pleasure
One of the widest sex toys on the market
Watch out for
The length – it may not be long enough for some experienced size queens
Best of the glass extra-large sex toys
T-Explorer Glass Dildo
To give you, your partner, and your partygoers on SinParty a visual treat, invest in the T-Explorer Glass Dildo.
At 10.6 inches long and a girthy 5.65 inches around, the see-through dildo offers a unique view into your stretched out holes. Being glass, it's also fine to use with either water- or silicone-based lube.
The good stuff
It holds temperature well for a long session – although it takes a while to thoroughly heated or cool
The nodules add a little something extra to the sensations when this giant is inserted
You don't have to hide it away; it looks pretty and your guests won't guess it's a sex toy
Watch out for
The weight – it's a big chunk of glass so can be hard to handle so it's probably better for use with a partner
The super-sized butt plug
Doc Johnson American Bombshell
Looking for something designed specifically to stretch out your ass? The Doc Johnson American Bombshell is a great anal training toy to try out.
The ringed shape helps you introduce more width and length to your ass slowly, with clear achievements as you go. It's got 7.7 inches of insertable length and gets up to a hefty 13.9 inches in girth.
The good stuff
It's made from body-safe PVC so is fine to use with silicone- or water-based lubes
There's a suction cup so you can practice your stretch solo
The size will present a long-term challenge for your ass to engorge
Watch out for
The material – it's pretty solid rather than squishy so lube, lube, and lube some more
Make your own dick extra large
Lovehoney Mega Thick Penis Extender
When you need to get that filled-up feeling but your partner's dick doesn't get you all the way, the Lovehoney Mega Thick Penis Extender could be what you need.
As well as getting directly fucked by your guy, but bigger, extra large sex toys like this could also play into the fantasies of people who enjoy small penis humiliation. Seeing that someone needs an extender to keep you happy could be just what they need to get off.
The good stuff
It'll give a girth of 6.5 inches and add up to an extra 2 inches to the normal length of dick
There's a ball loop that keeps it in place and can even help the erection last longer
The see-through plastic keeps everything visible which is the type of thing your buyers want
Watch out for
Lack of male sensation – obviously the dick-owner isn't getting to feel your pussy so is unlikely to cum with this on
The extra-large of the extra-large sex toys
Extreme Retraint's Raging Rhino
When you just need big – the bigger the better kind of big – the Raging Rhino is the extra-large sex toy for you.
It's up to 7.8 inches in circumference and the insertable length is a size queen's dream – there's a full 13 inches for you to ride on.
Being made from PVC means that it's compatible with silicone- and water-based lube. You'll need plenty of lube because this is a monster dildo.
The good stuff
It's huge! It's going to take some time to train your ass or pussy to take this – make a series of videos showing your progress?
The veiny feel will give you extra feels as you stretch yourself over it
The much-needed suction cup should keep it in place and give you solo control over how wide and fast you go
Watch out for
The size – it really is a biggie so if you're a beginner, go with one of our smaller suggestions to start
The very big sex toy of your dreams
Mr Hankey's Dragon Dildo XXXL
If you're dreaming of extra-large sex toys outside of the human realm, Mr Hankey's Dragon Dildo XXXL might be what you need.
The biggest of the four sizes available is a whopping 12.75 inches all around and get up in your junk a full 14 inches. You can choose the firmness and the color when you order, making it more personalized to your tastes.
The good stuff
It's got a scaly texture with is super enjoyable rather than painful
For extra cash, you can even choose a more specific, personalized color for your dragon ride
The overall texture is really pleasing and can get really slippy when you lube it up
Watch out for
The price – it's pretty steep, but if you buy into your fantasies then it's worth it
What are the best extra-large sex toys?
There are plenty of extra-large sex toys designed to please size queens. For those looking to start out exploring this kink, start of reasonable small as you train your muscles to expand. It's possible to work your ass and pussy up to some pretty huge dildos, but it takes time, patience, and plenty of good-quality lube too.
If you're starting to explore size with your fans on SinParty, listen to what they need but don't do anything you're unsure of – it's about you having fun and getting paid, not hurting yourself!