Creators know the importance of solid, consistent promotion to get your face and name out there. At SinParty, we're on to the hustle too and we've been pushing to get our creators and the brand in front of more eyes – and ears. 
SinParty is the best platform for creators to do business and the safest place for fans and their favorites to interact. Getting that message out to the general public and building brand trust is going to propel SinParty and our creators to greatness. 
Here, we're gathering all of the media coverage we've received in the past three months and will do the same in the coming months. To save you digging around the internet – you never know what you'll find out there – we've got:
All the coverage our creators have received recently
A joke that went just about far enough
Your very own Madame Jo making it big in podcasting
Creators are queens
The men and women who love sex so much they put it out there on SinParty every day are our heroes. They're the people we do business with, too, but we got a lot of love for them too.
This is why we put them front and center of our partnerships with the media. We've worked with three of our smoking hot creators to place them in the news recently. 
Mimi Boom
Mimi and her boyfriend Dan are on a massive motorbike ride across Africa – and they're using their earnings from SinParty to make it happen. 
The pair set off from their home in Spain after a few false starts in June 2022. We wanted to help them get some attention and tell the world about the content they're putting out there from a bunch of exotic locations.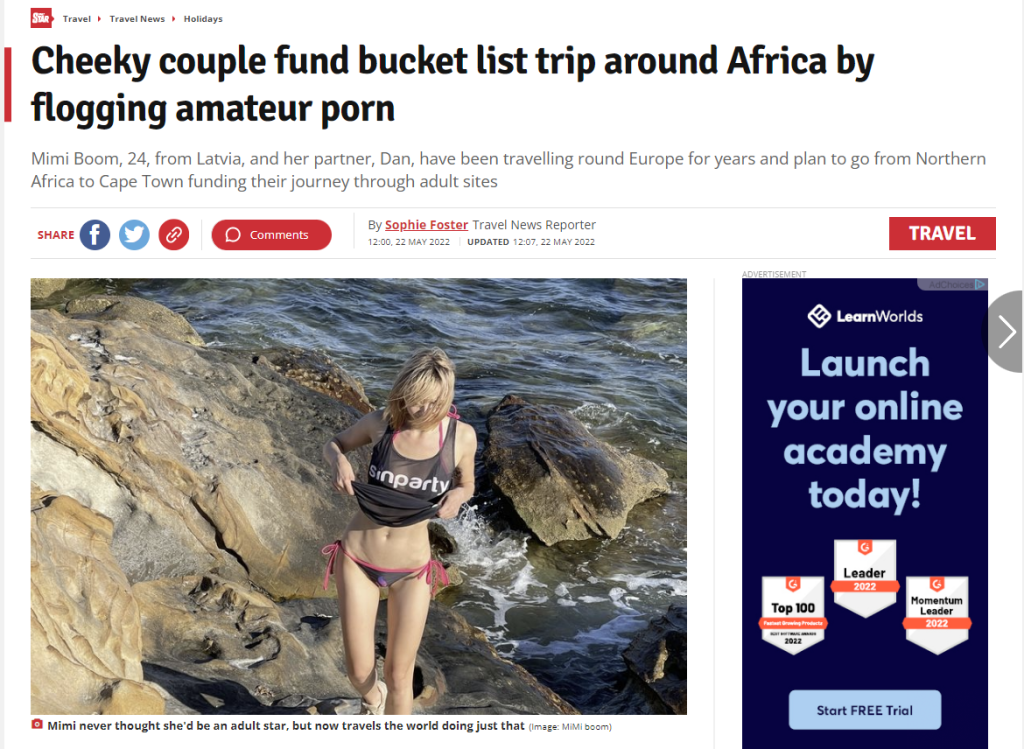 Along with getting SinParty's name in the media, the pair saw a huge increase in traffic to their page. It definitely helps to land in the news!
Cherry Adams
The sweetest, sexiest Brazilian you ever saw also got a feature in a national UK newspaper working with us at SinParty. Cherry Adams and her fiance Rick Adams packed up and hit the road across South America at a moment's notice. 
Imagine our confusion and delight when the message came in – "Sorry I didn't reply, I'm on the way to Argentina". They still planned to make their sultry couples content on the road and who doesn't love a good exotic tale of lust, licking, and long dicks?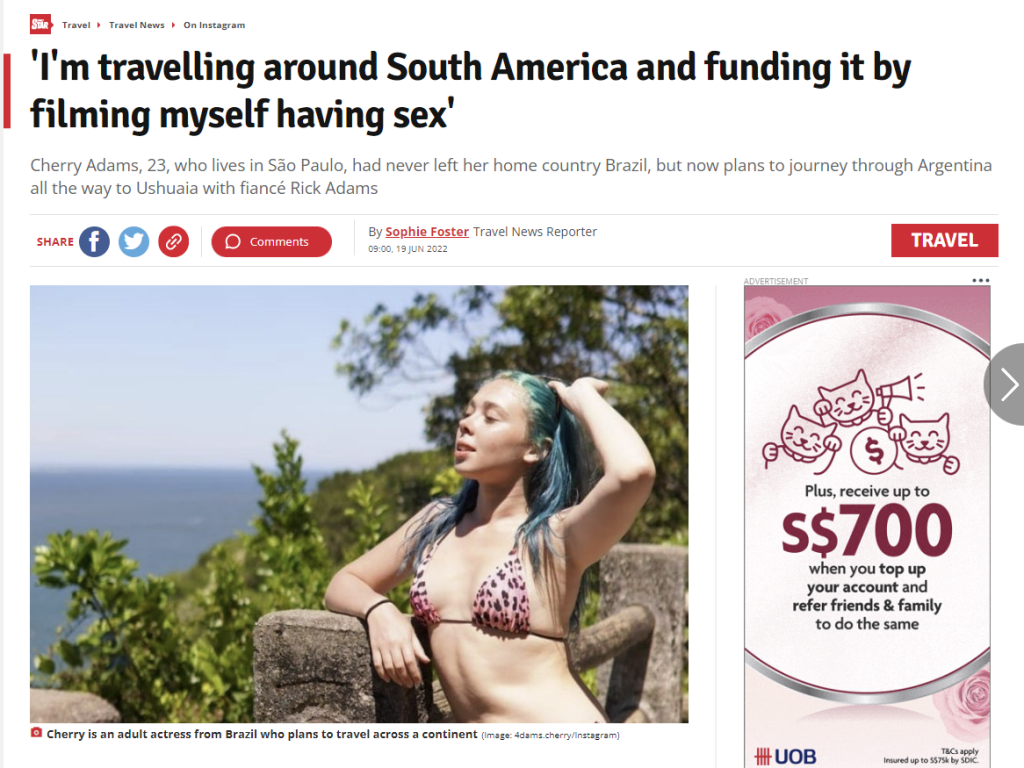 Her profile got more views and her socials lit up with hundreds of new followers after the story went live. 
Lana Michaels
We love kink here at SinParty – have all the fun you want as long as everyone consents. Lana Michaels has been out there breaking down taboos about kinks when SinParty wasn't even a byte on a laptop. 
She joined SinParty in July 2022 after being booted off OnlyFans; more on this in a moment. Lana has been featured on multiple TV shows in the UK and in the news globally so when she came to the party the Daily Star wanted to know why.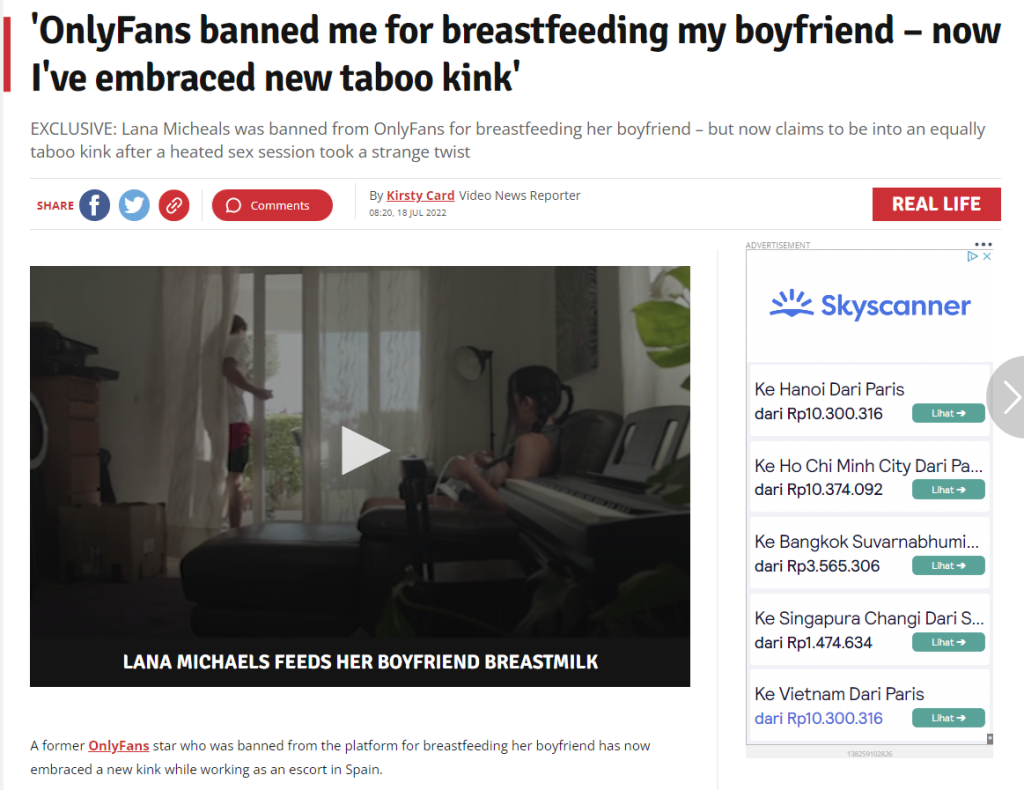 The story about Lana's new pee kink introduced her fresh love to the world in a way that can help people understand why she's so into it. The increase in page traffic and new subscribers were a juicy bonus.
Banned from OnlyFans
Every creator knows how challenging it is to stay on the right side of OnlyFans. The site even tried to boot all sex workers back in August 2021 and has been super strict since. 
SinParty is all about sex and kink and we're not shy about it. We've seen what's gone wrong elsewhere in the industry and are starting out doing things right. That means creators who lose their accounts elsewhere have a natural home with us.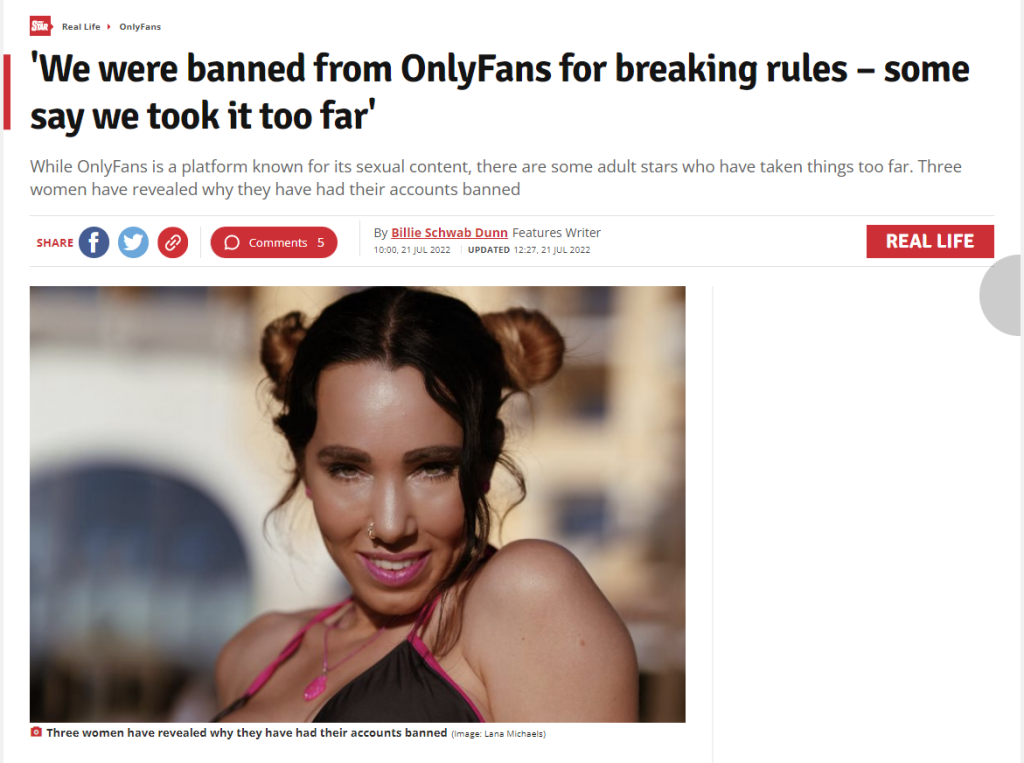 Both Lana Michaels and Nicole Doshi were featured in a news item about just that. They both now happily monetize their porn content with SinParty and we love them for it!
Talking about Tommy Lee's todger
Life on social media moves fast. Dare we ask you to cast your mind back all the way to August 11, 2022?
T'was a normal day on Instagram, then BOOM, Tommy Lee, the Motley Crue drummer, dropped a nude on Instagram. It was online for five hours. Five glorious hours of his legendarily long dick for all to see.
We got a screenshot. Or 27. But he's since taken it down, and we're all about consent so we won't be posting it. We did, however, take the opportunity to issue a very serious, business-like proposal to the man himself.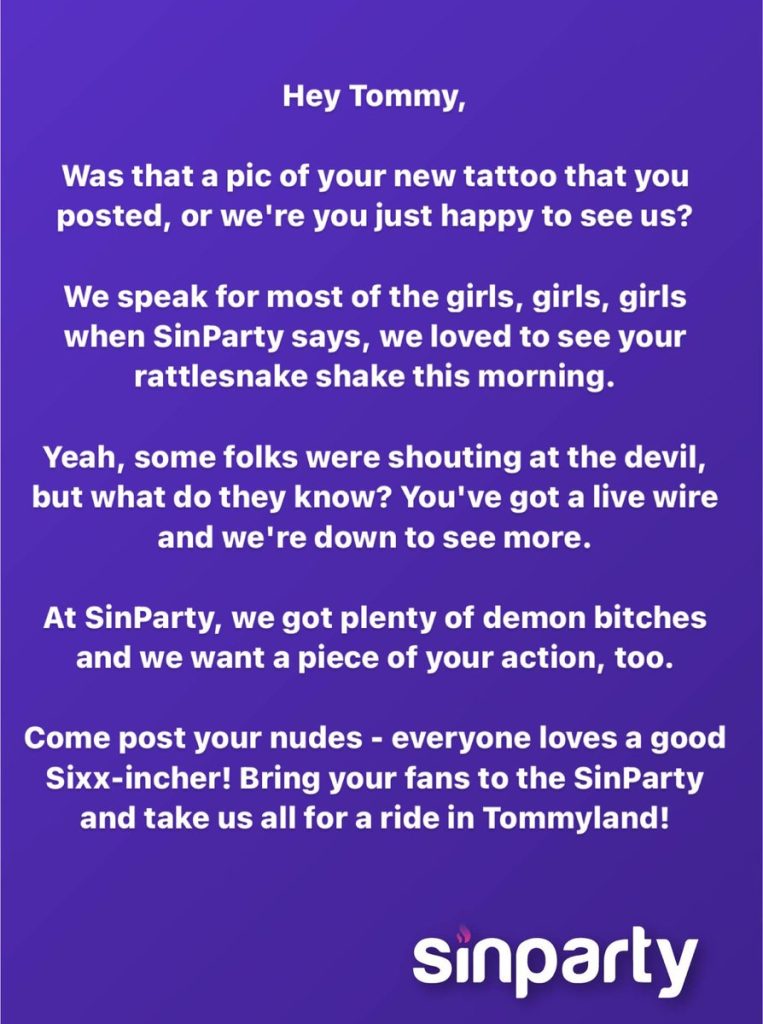 We're still quietly hoping he'll take us up and UniLad and Joe.co.uk thought we were funny enough to publish our invite to the generously genitaled one. A career in standup beckons, yes?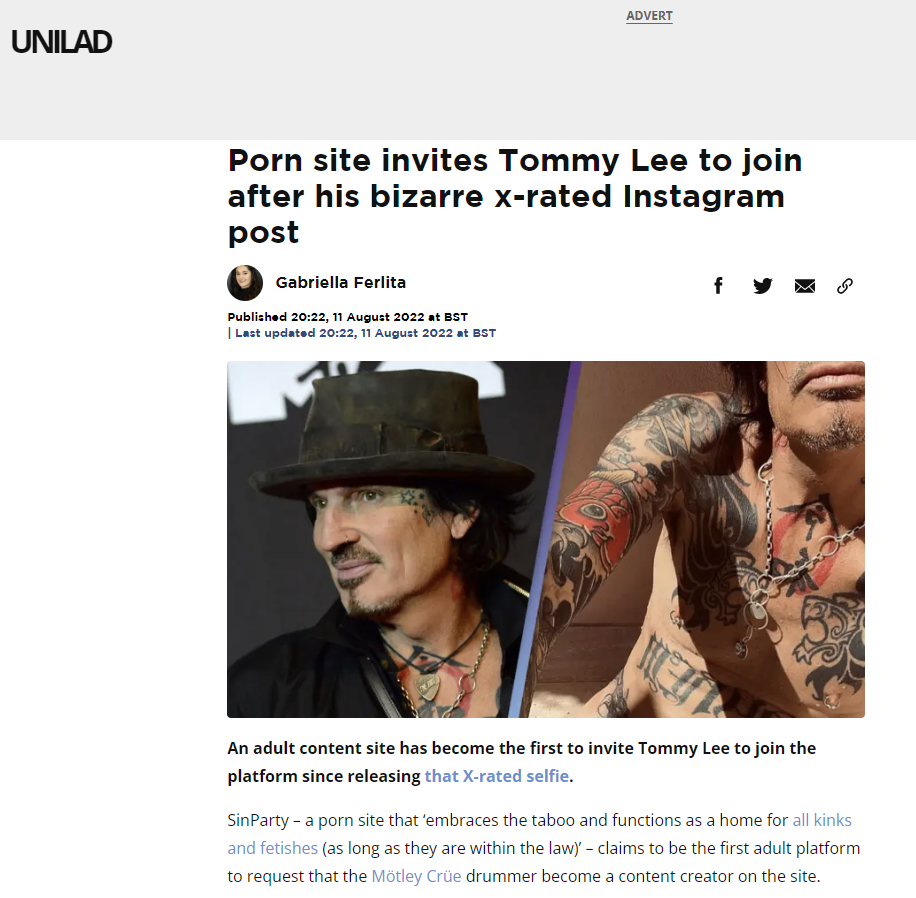 Be a good slut
Finally, we get to where the ego can really fly. Madame Jo – she of the blog writing, tapping out these naughty nuggets for you – was on a podcast that you should all be listening to as creators anyways.
Our esteemed creator Rebekka Blue is the co-host of Slutrepreneur and I was lucky enough to go on her show and have a chat with her and Strictly Biz Lizz about SinParty. 
You get to hear my "sexy British accent" talking about how SinParty works, how I got into the industry, and how you can be successful with us. Check out the full episode below!
Want to get involved?
Are you a creator looking for a new home for your horniest content? Like what you're reading when you see us in the news? You can be a Sinner too and join SinParty today!
Already one of our devilish boys and girls and down for some coverage? Email us at socialmedia@sinparty.com with your story and some SFW pics and we'll see what we can do!