The highest-earning men on OnlyFans
Everyone knows about the hot women selling nudes and sex tapes on OnlyFans, yet there are plenty of men making bank on there too. Who are the male creators bringing in the big money on OnlyFans?
It might not be quite as common for guys to get naked on the internet, but there are plenty of men doing it, and finding huge success.
You may feel daunted by getting your dick on the internet but there are plenty of men – and some women – who will be lapping it up. If you want to understand how to make a successful career of online content creation as a guy, we're going to give you some inspiration.
Here are the top five biggest earning males on OnlyFans, plus some of the top creators on SinParty and how you can be just like them.
1. Safaree Samuels
Safaree Samuels is so successful on OnlyFans, he's actually the eighth highest OnlyFans earner overall.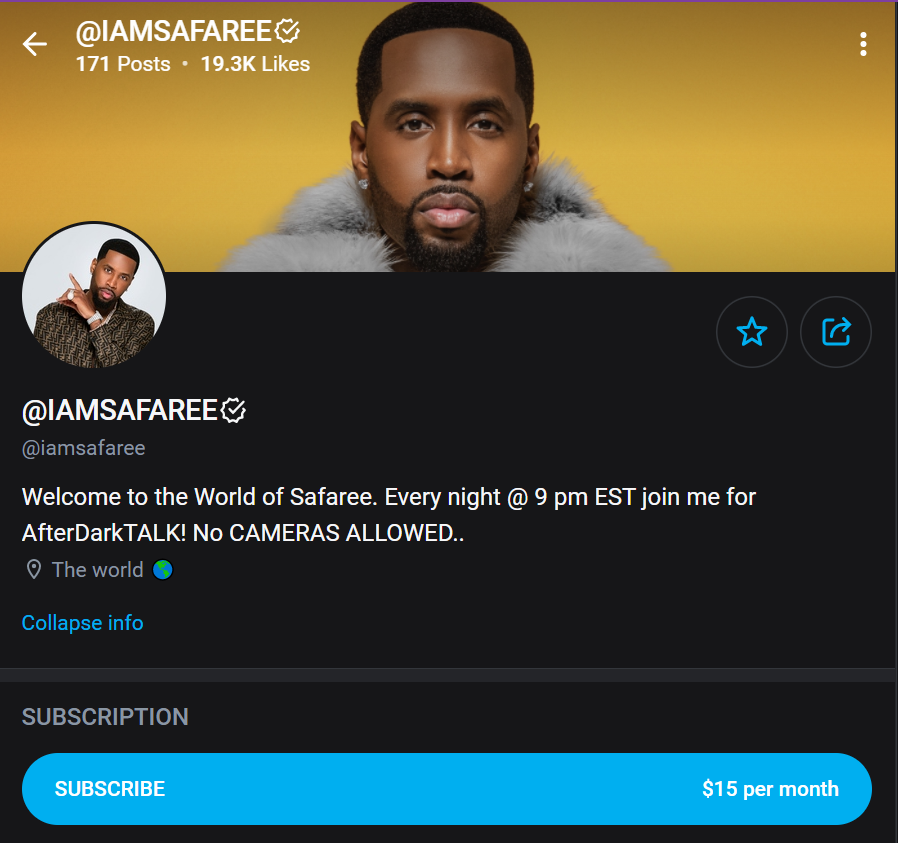 Safaree's career saw him start out as a rapper who appeared on the VH1 show Love & Hip Hop: Hollywood. He's also got history working with Nicki Minaj; he used to be her hype man, he had a hand in her 2012 album Pink Friday: Roman Reloaded, and they even dated before she hit the big time.
How did the hip hop artist wind up on OnlyFans?
He originally joined with now-ex-partner Erica Mena and they posted steamy content but didn't actually bump uglies on there.
Now Safaree goes it alone on the platform and live streams every night – fans can subscribe to his content for $15 per month. It's rumored that he rakes in up to $1.91 million per month.
2. Tyga
Ok, so Tyga isn't on OnlyFans anymore, but he does still kinda deserve a spot on our list.
He started his account back in April 2021 after making a name for himself as a rapper and for dating a Kardashian – because everyone has, right?
Lil Wayne signed Tyga way back when in 2009 and after a few successful albums he moved over the Def Jam with Kanye West. It was Ye's wedding to Kim Kardashian that introduced Tyga to Kylie Jenner, when she was just 17 years old in 2014.
That's how Tyga got famous, and he moved on to OnlyFans to make more bank. His time on the platform didn't last long and during the "no adult content/huge U-turn" event in 2021, he upped and left claiming to be developing his own adult platform, which is yet to be launched as of March 2022.
3. Casanova
Ready for another rapper waving his dick around at you?
Based in New York, Caswell Senior has had plenty of controversy in his career, notwithstanding his OnlyFans account. In November 2021, he was accused of attempted murder in a Florida club, for example.
Even before that, he'd been locked up for gang-related charges since 2020, so his OnlyFans hasn't exactly been popping.
Before all his legal troubles, Cananova was said to be raking in more than $1million per year for his nudes on the platform – his account isn't available at the moment, though.
4. Aaron Carter
Back in his teenybopping days, Aaron Carter was known as the cute, pre-pubescent kid brother of the blonde one in Backstreet Boys.
He's come a long way from I Want Candy and Crush on You. Now, you'll find Aaron getting his kit off and being raunchy on his OnlyFans account.
Back in 2013, Carter filed for bankruptcy so it seems selling his ass is a way to boost his income. You'll find his heavily tattoo'd face and body being sold for a $15 per month subscription and the account promises NSFW content.
The account has been live since 2020 so there's not plenty of content available for your perusal.
5. Nikocado Avocado
Which of these OnlyFans stars is not like the others?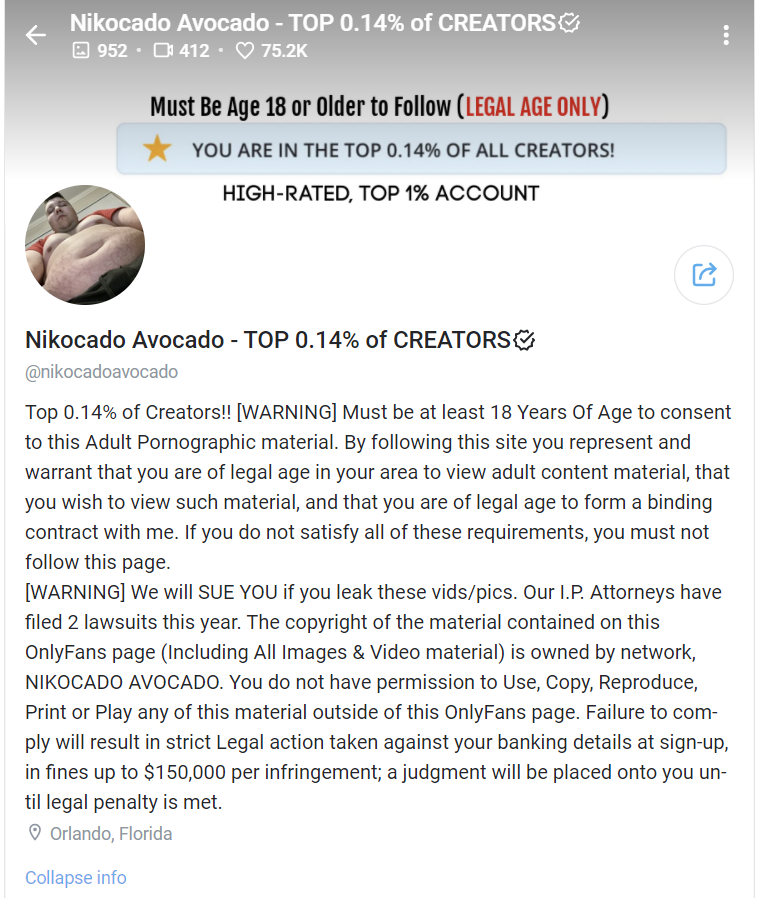 Nickocado Avocado doesn't rap, isn't a former child star, and probably isn't know much at all outside of his fanbase. Yet a fanbase this guy does have.
Nickcado found fame as a YouTube doing extreme eating challenges. Known as mukbang, these videos have helped him earn over 3 million subscribers to his channel.
His content on his OnlyFans is somewhat racier, though. The NSFW videos and pictures show him nude and sometimes with his husband.
He's pretty successful, too. At the time of writing, he was in the top 0.14% of all creators in the platform and it's believed that he makes around $500k per year from his $14.99 per month subscription.
How can men make money from OnlyFans?
The most famous people on OnlyFans do tend to be women, think Mia Khalifa, Blac Chyna, and Cardi B. However, men can be successful at selling explicit content, as we've seen.
No matter your sexual orientation, it's a fact that the people who by male-made content are generally men. This shouldn't be an issue, but it can be for some people – you won't get many thirsty women in your inbox but there'll be guys wanting to get a piece of your action.
There are only so many angles a dick can be photographed from, so you need to make your content engaging and diverse. Be naked during your everyday pursuits; naked cooking, naked mowing the lawn; naked fixing the car… You get the picture.
Where can men make money from adult content?
OnlyFans does have the brand recognition when selling adult content online, but there are lots of restrictions about the type of content you can sell. Using SinParty to sell your content means you can:
Have one account that has both free teasers and subscriber-only content
Sell PPV videos to your fans and other site visitors
Accept custom video requests and negotiate payment on the platform
Earn referral income from every other creator you bring to the site
Making it a viable alternative to OnlyFans.
Want to use SinParty to find success as a male creator? Sign up for an account now.