Best Free Photo Editing Apps for 2021
When you create content, you want the best free photo editor app possible. You want something that's easy to learn, gives you plenty of control, and doesn't cost you the Earth.
Whilst there are plenty of apps that charge, we're going to look at the best free photo editor apps. These are great for when you're starting out or don't want to commit to a monthly or annual fee.
Every app that we're going to tell you about is completely free with no paid tier. We've made sure you can download them on either Android or Apple phones so no one will be left without the features.
Let's take a look at:
What you want to see in a good free photo editing app
The best a free app for when you're just getting started with photo editing
The free photo editing app that works when you've got some skills already
Which app to use when you're ready to edit photos like a pro
An app that's packed with filters and text options to make your content playful
What to look for in a free photo editing app
As a creator on SinParty, you want to look your best. The better quality the content you post and make as custom requests, the more money you're going to make. To make your photos lit, you need to make sure they're well-edited.
You've probably spent time fixing up your photos on Insta so know something about what makes a good shot. Your phone probably already has options to touch up your photos too. Using a free app to edit your photos is the next step, giving you features you won't find other places.
Being able to change as many elements as possible is the first thing we looked for when putting together this list. You also want the app to be intuitive, so you're not poking around in loads of menus to do something basic. Having tutorials on the app or YouTube to help you figure it all out is another essential.
We've picked four of the best free photo editing apps based on these criteria, so let's take a look.
The best app when you're new to photo editing
Adobe Photoshop Camera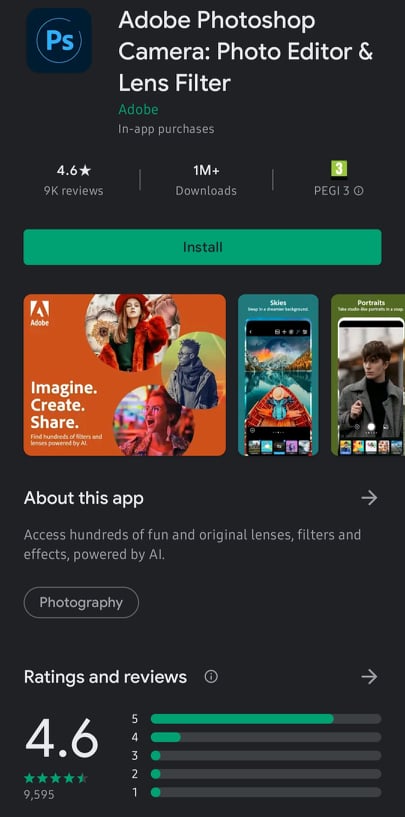 This app has some really cool features that will step you up a level from Instagram. Adobe Photoshop Camera is mainly about filters, which the app calls lenses.
You can create your own lenses by changing around settings and savings the ones you like. This means you can create a similar look across your content and be consistent.
The app also uses artificial intelligence to recognise objects and let you edit them out. Super useful when you've left your dildo in the background of a lewd photo you're using for promotion! You can even change the background in your photo to add a fresh element.
Some of the lenses in the app even let you add animations which can really sent your content off.
With this free photo app, you don't get complete control of everything in your photo, but you do get more than pre-set filters. It's a good tool to slowly start to learn how to make your photos pop.
A photo editing app for when you've got the basics down
Lightroom Mobile
If you've got an eye for what works on photos and have been using simple filters and retouching for a little while, this app will up your game. Lightroom Mobile is free on one device, but if you really like it you can upgrade to a monthly plan with cloud storage and the option to use it on other gadgets.
There are loads of tools in this app that give you detailed control of your photos. You can work on elements like the exposure, saturation, colors, to bring out the best in your shots. Everything is controlled on a slider so you don't need to guess at numbers and can understand how each element will change your pics.
To really get to grips with the app, there are in-app video tutorials so you can keep getting better and explore your options. When you've finished playing around it's easy to get back to your original photo too, nothing is permanent.
A free photo editing app that pros will appreciate
Snapseed
Google's own free photo editing app has so many features and options you could get boggled by your choices. Snapseed has simple filters and effects as well as much more detailed options to make changes to your photos.
You've got plenty to learn with this app, but try not to be put off. There are thousands of helpful videos on YouTube, like this one.
The app works by editing in "stacks", where you make edits in layers and can go back to the layers and make more changes. You can save these stacks for the future as your own custom filters.
The best free photo app for filters and text
Afterlight
With less features than the other three, Afterlight is a bit more basic. The text elements that you can create and really fun and you have loads of options – that's why it's on our list.
You can get creative with your filters and text options, and even use it on the photos you've edited in the other apps to add that final level of personalization to your work.
The app has more than 70 frames and loads of filter options. This will keep your content fun and make it look different to your party goers – find what looks they like on you and experiment what styles get you more tips!
The best free photo editing app
There isn't one best app for editing your photos for SinParty. Depending what you need, one of these four apps, or a combination, will produce great quality content when you're working off your phone so you can give your party goers exactly what they've paid for.