Hot Personals Porn Advertisement Leads to Lesbian First
By Madame Meta
Nobody in the modern world really knows how to connect with people anymore. Sure, we have social media and YouTube and Tinder, but what ever happened to meeting in real life? How was she meant to write a personals porn ad when she had never read one before?
She hit the backspace key aggressively and threw her head into her hands, sighing in anguish as she gave up on her endeavor.
She stood up from her bare floor and looked around at the shithole she had deemed worthy of her living space. At least it was in the "cool" part of town. Her shelves were littered with vintage paraphernalia. A few old polaroid cameras from the 80's, some vintage porn magazines, and a few LP's sat astutely on her shelves.
She threw on her distressed jeans, an old KISS t-shirt, and slipped into some beat up Converse shoes before slinging her backpack over her shoulder and heading down to the used book shop around the corner from her apartment.
"Hey Rick," she called out as the bell on the door clanged upon her entry to the musty little shop. "Do you have any vintage magazines with personals ads?"
Rick had heard many odd requests from her before so he wasn't all too surprised to hear this one. He disappeared into the towers of yellowing paper and emerged with a few old copies of New York Magazine.
Writing a personals porn ad
She promptly paid him and left to go hide in the nearest strip bar. The stench of stale beer and desperation filled her head with inspiration for the smut she was about to create. Her personals ad was her hipster attempt at finding real people to make amateur porn with, in a world full of Tinder douchebags.
She sat in the bar, looking over the desperation of the late 80's in text form, immortalized in the back pages. After several hours of milking the same warm gin and tonic and flipping through the old back pages, she decided she had researched the format enough. She was ready to concoct her own, not so desperate, personals porn ad. 
The title seemed to be the most important step. A grouping of words precisely meant to turn heads and make people more interested in her words. She went with: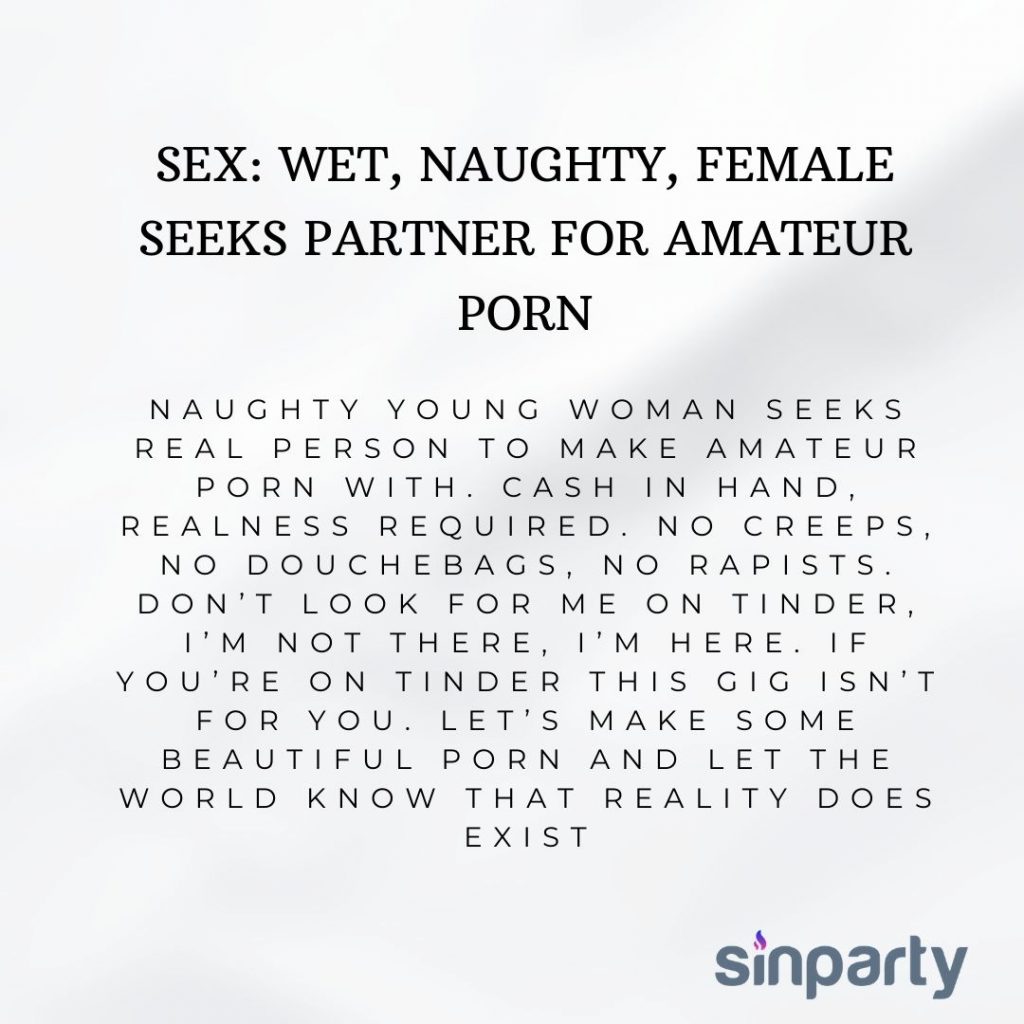 She emailed the local publication she'd already made an agreement with. Her ad was attached and she headed to her shithole apartment to wait for a response.
That night, she couldn't sleep. She tossed and turned in her bed, the thought of making porn with beautiful, real, people stuck in her head. She turned to imagining the physical characteristics of the people who would respond to her ad.
Would he be a thin, tattooed, mess of a person? Or would he look like a statue – buff and tanned? How would he fuck her? Would he kiss her tenderly and caress her every soft curve? Or would he shove her face up against the wall and ravage her pussy from the back?
She had worked herself into a fervor. She needed to release the tension from all the excitement of her next production.
She sat up and pulled her dildo from her nightstand. She slipped off her panties and reached up into her shirt to begin pinching her nipples. She slid her hand down over her lower belly and rested the tip of her finger on her pink clit.
She ventured down to her pussy, feeling how wet it was and used her own juices to lubricate her masturbation.
Rubbing her clit in a side to side motion, her cheeks flushed
She thought about the men that would contact her and settled on the image of a tattooed bad boy. His dick was huge and throbbed, the tip pink with excitement.
She imagined him penetrating her purposefully, staring into her soul with his crisp blue eyes, his hair falling over his face as he earnestly pushed her closer to orgasm.
She desperately grabbed the dildo by her side and plunged it as deep as she could into her aching pussy. She almost immediately finished herself off after only a few repetitions. Her whole body heaved and she arched her back, letting out a pitiful moan of pleasure as she orgasmed.
It felt like she had been edging herself all day. The release caused her pussy to drench her sheets; she left them soggy and immediately fell asleep.
The next morning, much to her surprise, she woke to a phone call. She sleepily answered "Hello?"
"Hi! Uh, yeah is this the amateur porn partner seeker from the personals ad?" a woman nervously muttered through the earpiece.
"Yes! It is, wait… are you interested?" She responded, mildly confused in her pre-coffee blur.
"Uhmm… Well, yeah? I need some realness and I hate Tinder and I think artful porn is great so y'know…" she stammered out.
"Well, uh, I didn't really expect a woman to respond to the ad…" She hesitated. She had literally imagined a man fucking her with his giant cock last night. "But, I've never explored lesbianism so maybe this could be a good piece!" she continued, confidently.
"Cool! Well, where do I go and when?" The stranger sounded a lot more relaxed after hearing the reassurance.
She gave the stranger her details, they exchanged names and made a plan to meet up that afternoon.
She ran to her shelf and pulled out a camcorder from the early 90's. Her mind whirled with ideas of how she would turn this first time lesbian encounter into a full blown art piece for public consumption.
Her pussy immediately began to get wetter, the liquid dripping down her bare inner thigh.