Fucking in Front of the Neighbor: A Kinky New Year's Eve
By Freya Ocean
"He might not be your neighbor, but he lives close enough for you to get there on time."
It was the day before New Year's Eve. I had told Richard that I wanted to be fucked at the stroke of midnight. He'd offered to help me find someone. I finished work at 11pm so I wanted someone who lived close to me.
Richard wasn't my Dom yet, but he was my potential Dom. We were vetting. He had told me he used to find guys for his last submissive to fuck.
I'd asked him how he'd ensure I'd be safe. We talked about it over the phone. He knew what he was doing.
He would go on a swingers website and only find guys with previous verifications from women.
My potential Dom would find a dominant guy for me. He asked me what my limits were. These would be given to the guy to ensure that he only did what was okay for me.
My instructions were to arrive at 11.45 pm, dressed only in lingerie under my coat. Richard would tell the guy that he was my Dom, to ensure I was safe and that the guy didn't take any liberties.
Richard told me that he'd found a guy for me. He gave me his address. It was a big city, but he lived near me. No, not my neighbor but near enough. I didn't know anything else about him.
On New Year's Eve I began getting ready late, while I was working from home.
I tried a few different sets of lingerie before settling for a black strappy set. It looked a bit like bondage, with straps framing my thighs.
I knew Richard would like that. I took a photo and sent it over to him.
"He's a lucky guy," he replied.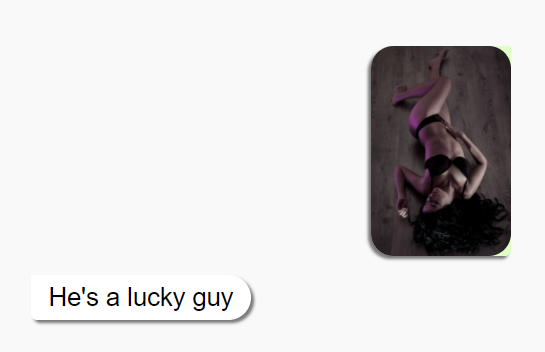 The sluttier I was, the more turned on he was. I couldn't wait to fuck this guy for him.
Such a slut
I ordered an Uber and just before it arrived, I decided to put my ben wa balls in my pussy. That'd be a surprise for him.
My heart was racing as I got in the Uber.
I arrived a bit early at his address. It was an apartment building with maybe 5 or 6 floors.
He was going to meet me outside at 11.45. I paced on the pavement, heart still racing.
At exactly 11.45 he came out. He was shorter than I thought he would be. Richard knew I liked tall men. But he was good looking.
Light hair and fair skin with freckles. It was hard to tell in the dark, but he looked ginger.
We didn't say a word to each other. He had been informed by Richard that there was to be no small talk.
This stranger led me to the elevator and I messaged Richard to let him know I was there.
We rode up to the 5th floor and he watched me intently. When we came into his apartment, he immediately took my coat off.
His eyes turned black at the sight of me in my lingerie.
"Oh you are such a slut, aren't you? Coming to a stranger's place to get fucked. Wearing only lingerie under your coat."
He led me into his living room. He walked around me, inspecting me.
Suddenly, he held me tight and growled in my ear. "Yellow is for pause. Red is for stop. Understood?"
I said yes.
Dear god, I was so turned on. His hand struck my ass. It was like granite hitting me. I winced and moaned.
"Such a slut," he muttered.
He spanked me again.
"So, what does your Dom like to do to you?" he asked.
He spoke slowly. His voice was dark and stern.
I hesitated. "That's between me and him."
Happy New Year, neighbor
He sat me down on his couch and spread my legs. His eyes lit up with surprise when he found the ben wa balls in my pussy.
They quickly turned dark. He slapped my face.
"You really are a dirty slut."
My cheek stung. He took them out of my pussy and put them in my mouth.
His hands turned me around and put me on my knees on the couch. I looked out the window. It was overlooking the city.
I saw his neighbor walking around in his flat opposite. I wondered if he could see us, hoped that he could.
He spanked me again, and again. Pain mixed with pleasure, making the pleasure even greater.
I knew my ass was red. I would have bruises tomorrow. I smiled at the thought.
His fingers were inside my pussy, fingering me from behind. I checked my phone, it was 11.57. I had set an alarm for midnight.
Minutes passed while he fingered me and ate my ass from behind. Just as the alarm on my phone went off, he pushed his cock inside me.
I let out a gasp. Fireworks went off in the distance.
"Happy New Year," I said.
"Happy New Year. You watch the fireworks while I fuck you."
The sky was lighting up and he was pounding me hard from behind. It had been a shit year and I could not think of a better way to end it and to start the new one.
45 minutes. No more, no less
He stopped fucking me and turned me around. He found the ben wa balls on the couch. I'd taken them out of my mouth earlier.
"You're lucky you're not my sub or you would've been punished for taking them out."
He put one of his legs on the couch and put his cock in my mouth, deep down my throat.
He spat in my face, then slapped me again. I was gagging and drooling. His spit mixing with mine.
"Such a shame we only have 45 minutes, or I'd have done so many more things to you."
Richard had given him a strict timeline. 45 minutes. No more, no less.
"But I want you to be allowed back for another visit," he continued.
He shoved his cock down my throat again, then he pulled out and growled. He covered my tits with his cum.
"You can leave now."
I checked the time on my phone. 12.30 am. Right on time. I took my coat and my ben wa balls and left.