Adult content creators faced a stark reality in 2021 – OnlyFans didn't want their content. While the platform did a sharp U-turn just a week later – claiming issues with payment processors – it definitely left a bitter taste in the mouths of porn makers.
OnlyFans may have treated sex workers with disdain, but here at SinParty we're not just sex-work friendly, we're alllllll about porn and spicy adult content. With OnlyFans ashamed of your best content and PornHub sinking fast, creators need alternatives.
For the full story on what exactly happened at OnlyFans in the lead-up to their banning and about turn, check out our article here. If you're ready to jump ship and need a better place to sell your content and connect with fans, read on!
Here at SinParty, we've got the features you need to make money selling your porn content. Want to know why? We're going to look at:
Attitudes to sex work
What the audiences look like
How your content gets presented
How we view kinky content
The ways you can monetize your videos and photos
What a custom request looks like
Helping you measure up the two platforms and see what we can offer.
How does SinParty treat sex workers?
SinParty is a website with two roles:
We offer a safe place for creators to sell their content and interact with their fans, like OnlyFans
We have a tube section of the site where users can discover new content and find new creators, like PornHub
Because we're a dedicated porn site, we understand adult content. We're not scared of sex and the rough and ready content you make… You can already find that style and more on our site.
Yes, we play by the rules and don't allow illegal porn, but we're as liberal as is possible to be. What's important on SinParty, is that your extreme or hardcore content sits behind your paywall – this way no one can accidentally watch something that's a little more niche.
OnlyFans has always wanted to be mainstream, you can see this by their blog content and their social media focus on their "suitable for work" (SFW) creators. SinParty is about porn; sex; the skin game; so there's no end-goal and getting on the App Store, we're all in on adult content and unashamedly so.
Another problem that OnlyFans faced was how they deal with their payment processors. In a recent podcast from the Financial Times, you can hear about how they weren't upfront with their banking partners and that's what caused a lot of their issues. At SinParty, our bankers and payment processors know what we do and don't have any concerns.
SinParty is all about you, our creators. We're building a platform for you to do business on – we actively seek your feedback and make the improvements you ask for so your buyers will come over. We listen to your needs and will support you to make bank.
Who is SinParty's audience?
People come to SinParty to watch porn. That's what we're known for and when people search for porn online, they're going to find us.
We're out there telling the world about our amazing creators: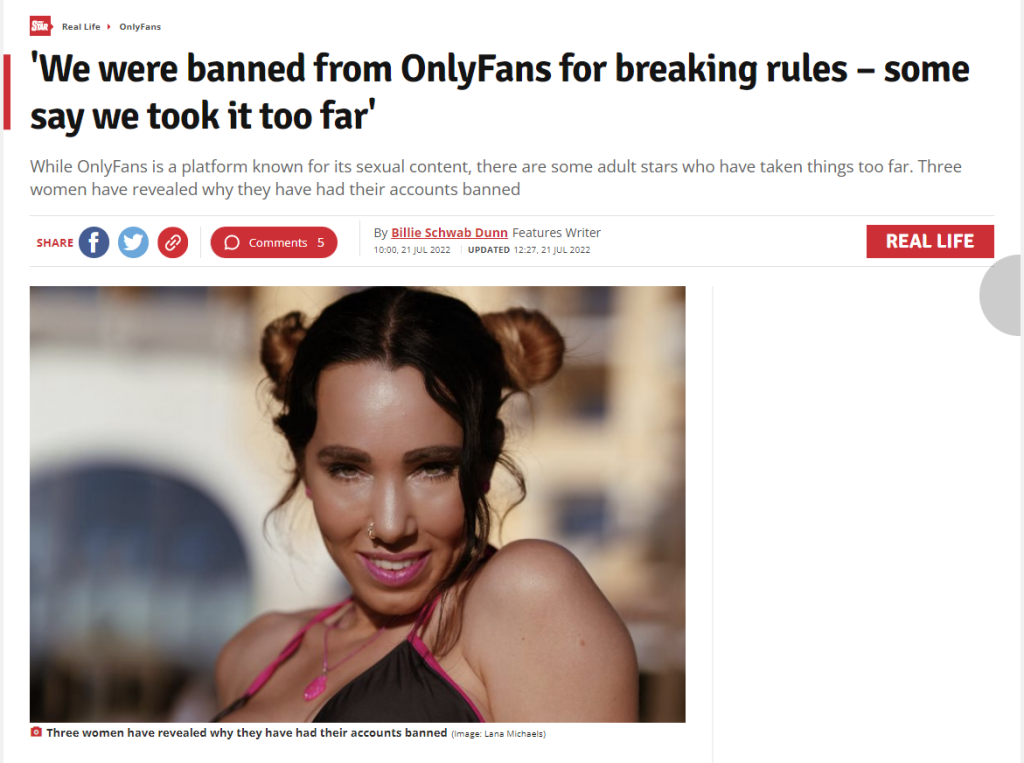 We also market and advertise the site – something OnlyFans didn't do too much of, and never in support of the women and men making sex tapes.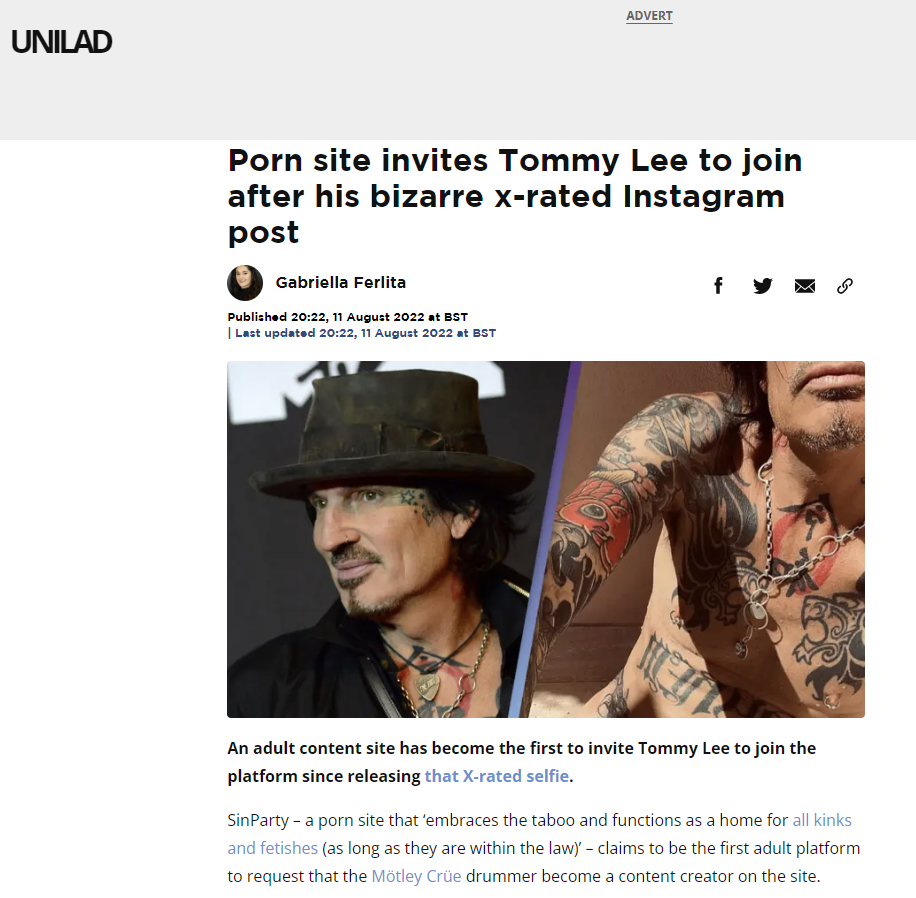 On our site, we have dedicated areas for featured creators…

… and a space to showcase your videos to site visitors:

This makes it super easy for people to find your content.
Even better, you can add categories to the videos you upload, so when a user comes to the site and searches "blonde" or "mature", your videos will feature within those search results.
You're still going to need to advertise your page, but when you optimize your content, you'll be able to reach whole new audiences.
What does my feed look like on SinParty?
At SinParty, your feed or wall is called your MyParty – you're inviting people to come join your party. Unlike OnlyFans, you don't need to spend time managing a free and a paid account, you can post both types of content in one place.
There are three types of posts you can make:
Free videos – think of these as teasers to show what your sex tapes are about and show why people will want to join your party.
MyParty videos – these are videos that can only be seen by people who pay your monthly subscription can see.
Paid videos – people have to pay to unlock these videos, whether they're a subscriber or not, so even a person who doesn't want to pay monthly can see your good stuff.

You can have all your content – videos, photos, GIFs, etc, all in one place with one URL link and one list of subscribers. Life gets a whole lot easier to make serious money with SinParty.
Does SinParty accept kinks and fetishes?
There's no kink-shaming on SinParty; everyone is welcome no matter their tastes. That's within moral and legal reason – we have a strict over-18s only policy and don't allow non-consensual content, incest, or bestiality.
Anyways, we're down for kinks. You'll have found with OnlyFans that there's a lot of stuff that buyers wanted that wasn't allowed. Content that include normal sexual functions like squirting or fantasy dildos can easily land you with a ban
One of our creators, Lana Michaels, was booted off OnlyFans for just talking about her adult breastfeeding content. Another super successful creator, Sakurai Mafuyu, faced the same fate and is now comfortably at home with us at SinParty.
At SinParty, we're cool with kink. Not everyone is down for the kinky stuff, but that shouldn't hold you back. There will be buyers and sellers keen to make a deal and we're not going to stand in your way – just make sure your titles and descriptions are clear so people know what to expect.
Whatever gets you off is cool by us.
How can I monetize content on SinParty?
We're not going to get too technical here, but it might also be helpful for you to know some of the words people use about video content.
At SinParty we help you monetize your work through:
Subscription video-on-demand (SVOD), which is where your fans and partygoers pay a monthly fee, set by you, to access all of your videos that you put behind a paywall.
Transaction video-on-demand (TVOD), which is when people can buy one of your videos one time without having to join your party – it's PPV basically.
How this differs from OnlyFans, is that anyone on the site can find your PPV videos. Your Paid videos can appear in search results with the price displayed so anyone can buy what you make: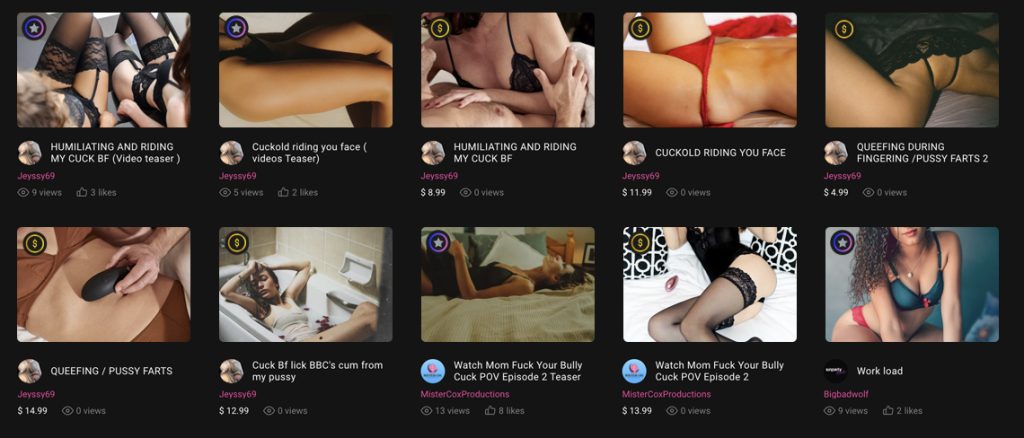 This means you've got more chance of making money without having to attract new buyers yourself.
How do buyers make a custom request?
On OnlyFans, you could make a custom video, but there's a lot of trust involved. You need to get your buyer to pay upfront or trust they're still going to buy it once you've put the work in to make it. Lots of chance for problems and you have to really work to lock in the deal.
The process at SinParty is much clearer and is designed to protect you from being accused of not delivering the goods and potential chargebacks. We can't guarantee it on the chargebacks – we know how annoying they are – but we're working on giving you some protection.
Our custom video request process looks like this:
The buyer clicks the option to request a custom video, outlining what they want, and selects the video length – you set your per minute rate.
You can choose to accept the request and the price or negotiate on what you charge for what they want, or you can outright decline it.
Once you agree to the price and the content, the buyer pays SinParty, but you don't get the money yet.
Next, you make the content, knowing that the buyer has already paid and can't ghost you.
You upload the video and complete the custom request to get paid.
Having all of this documented means that if the buyer says you didn't deliver, here at SinParty we can see the request and the video and check everything. Plus, if the buyer disappears, we still have your money waiting for you.
How is SinParty different from OnlyFans?
Clearly, we're a porn site so we're not going to start telling you to take down all your sexy, spicy videos.
There's more that makes us different from OnlyFans, though. We want people who consume porn to be able to find you and your videos. This means that you can make more money without having to rely on your own promotional efforts.
Our search function brings up categories, channels, and video suggestions when our users type…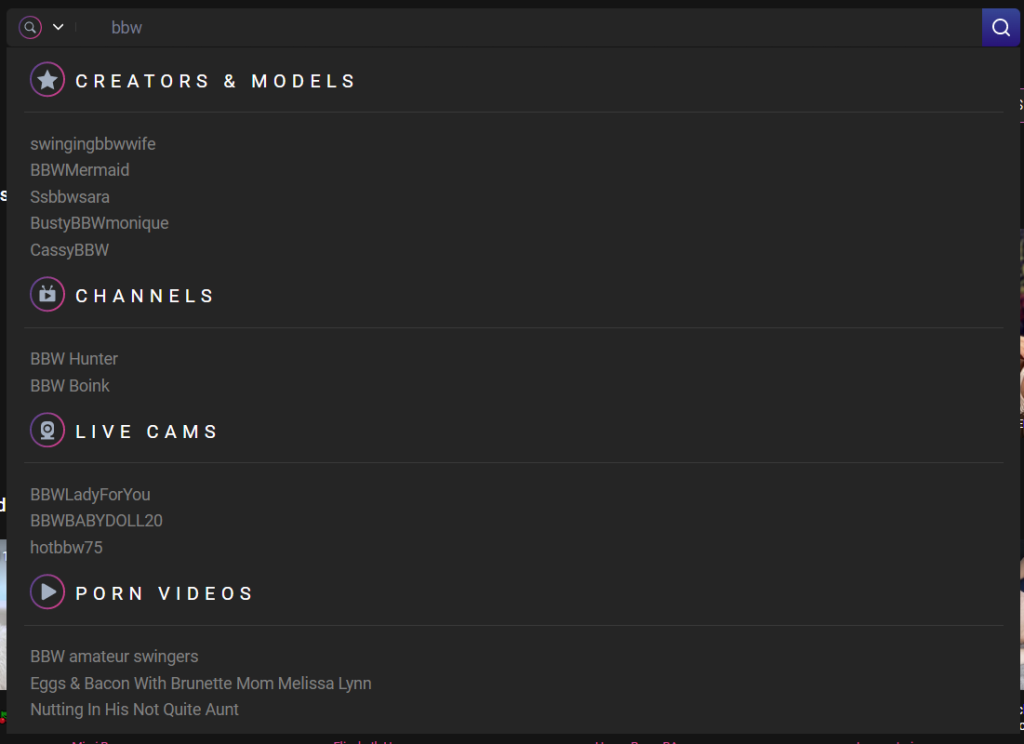 … and your free and paid videos can show up in the results after they hit enter.
You only need to have one account with us – your free, subscriber, and PPV content can all be in the same place.
Put simply, we have a lot more to offer to adult video creators than OnlyFans. You can sign up to be a creator at SinParty, check out our blog to see the support we offer to our team of creators, and have a look at how our homepage functions and where you and your content can be featured in the future.
Still got questions?