SinParty is a sex-positive, kink-friendly adult content creator platform. At SinParty, creators can connect with their fans and followers, monetizing their kinks, sex, and passions in a safe and inclusive space.
What exactly does that mean for you as a creator? We're going to get into the details of SinParty, looking at:
How you can make money with SinParty
What makes SinParty different from other creator platforms
What your fans are going to love about the site
Where SinParty came from
So you can be confident in joining the latest – and best – adult site and bringing your fanbase over.
How does SinParty work?
SinParty is a place for spicy content creators to make cash. You get a platform to upload your content with multiple ways to generate income from your fans and followers.
There are different revenue streams available on SinParty, including:
Subscriptions – you set a monthly price for your fans to access exclusive content and to be able to slide into your inbox.
Paid videos – you can sell individual videos for a fixed price to your subscribers or fans who just want individual pieces of content.
Tips – your fans can send you a cash tip to thank you, pay tribute, or just to get on your good side.
Custom videos – you're guaranteed payment for your customs; SinParty takes the payment from your buyer and pays it out to you when you upload. 
You can also upload free videos – use these as teasers to show potential buyers and subscribers what they'll get when they support your content creation. 
There are two types of people you can interact with on SinParty:
Followers, who don't pay anything – yet – but get notified whenever you upload new content to your profile.
Subscribers, who pay your monthly subscription to be able to watch your Premium videos and interact with you in your DMs.
In December 2022, we added a mass messaging feature that lets you send messages to one or both of these audiences. This gives you the tools you need to help convert your followers to paying fans.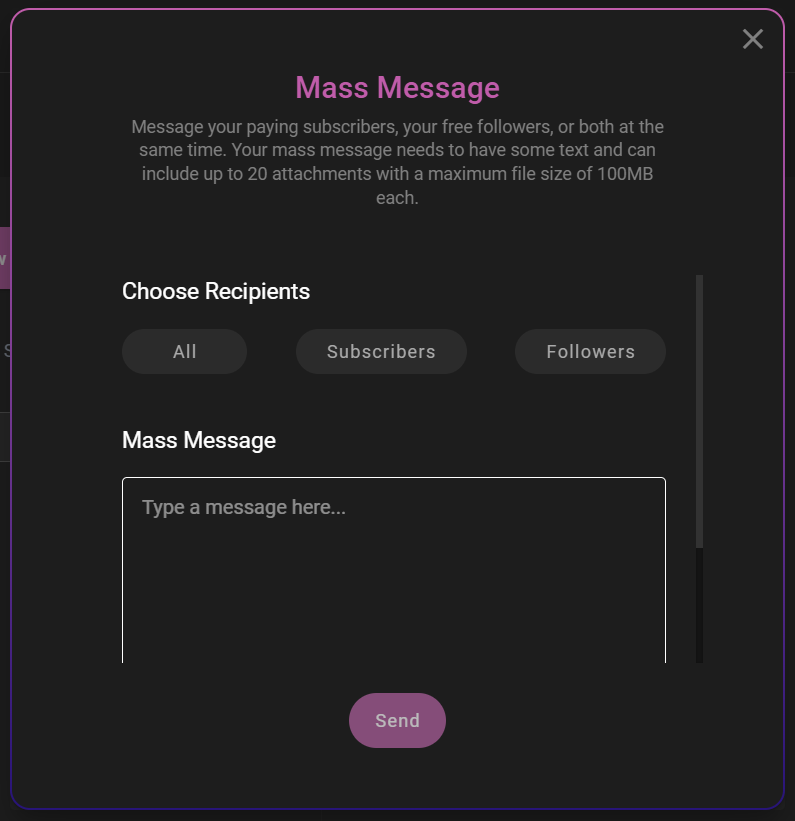 You can also schedule your Premium posts, meaning you can add all your videos ahead of time and release them to your hungry subscribers slowly. Our mass uploader also means you can upload your content in batches a leave it to upload while you live your best life.
How to get paid on SinParty
Payout options are one of the biggest concerns for creators. At SinParty, we can pay out your earnings across the globe, using the following methods:
Wire transfer, which is sent as USD and should be able to be received by most banks around the world.
Paxum, which is available to more than 50 countries around the world and is quick and easy to sign up for.
Cryptocurrencies such as bitcoin and Ethereum – if you want to be paid in a different coin, contact our Customer Support on Twitter and we'll see what we can do.
All of our payment methods are free for you to use. Payouts can take a couple of days to process; any concerns and you can get in touch to follow up.
What makes SinParty different?
SinParty aims to be kink-friendly and sex-positive – we embrace all creators who make legal, consensual content.
Of course, there are issues with payment processing in the adult industry. We understand the challenges and work closely with our banking partners to keep the cash flowing whilst allowing as much of your content as possible.
Do you make content that's been banned from sites like OnlyFans or Fansly? We're happy to welcome you to SinParty. If you're unsure if we can host your content and your fanbase, we're happy to get on a call with you and talk you through our policies.
When did you ever get OnlyFans on a Skype call 👀?
For a deep dive into what makes us better than OnlyFans, you can read about the six differences between SinParty and OnlyFans here.
It's this – our approach to creators – that sets us apart from the competition. We want to work with you to give you the tools you need to build your business. You'll feel supported and welcomed at SinParty, whether you want to sell feet pics or have edgier kinks in the realms of BDSM.
A part of the ongoing support we offer is our strong marketing program. We drive traffic to SinParty which will help you top-up your existing fanbase that you bring over. Even better, we promote our creators through our twice-weekly email marketing campaigns – speak to us over on Twitter about how you can be featured.
How do fans use SinParty?
SinParty has been designed to be a place for you to do business and where your fans will love to interact with you and spend money on you.
You'll see on the homepage that we promote our creators and their content.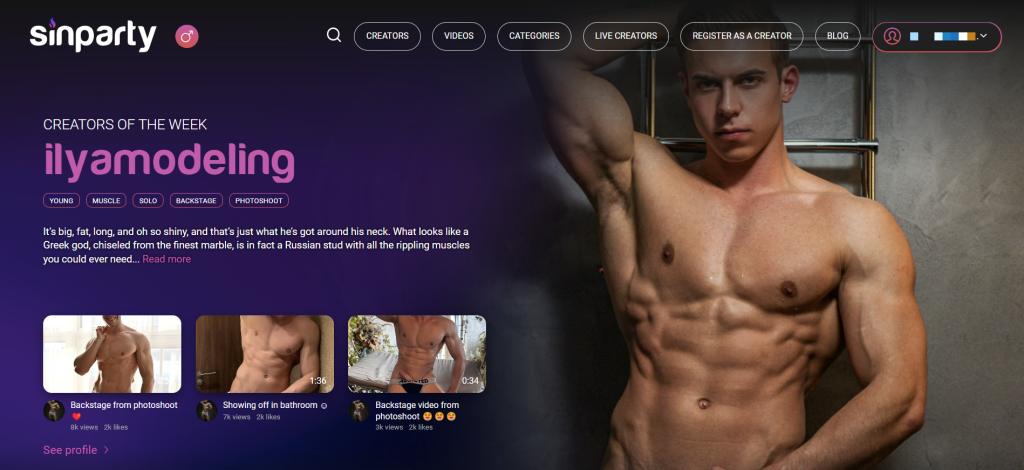 Potential buyers can find your content on the homepage. We feature trending and new content daily, so make sure you're uploading content and sending your existing fans to check it out to get on to the front of the site.
Your fans can follow you and get notified about when you're posting. They can also like your videos and leave comments – which you can reply to when you get notified on your dashboard.
To spend money, your buyer can:
Make one-off card payments directly from their credit or debit card
Top-up their balance to spend on the site, receiving a bonus for larger deposits
We accept Visa, Mastercard, and Bitcoin for payments, making the site as accessible as possible for your buyers to spoil you.
They will then be able to subscribe to your Premium content with a recurring or one-off transaction. You'll get a notification every time someone subscribes or renews so you can thank them if that's your style.
Subscribers can slide into your DMs, it's up to you if you want to ask for tips to offer services such as sexting or the Girlfriend Experience.
Your content will also feature on our category pages, depending on how you tag them when you upload. This means that visitors to the site looking for the type of niche videos you make will be able to discover you, follow you, and eventually subscribe to you.
What's the story behind SinParty?
SinParty started in 2020. It was initially envisioned as a tube site but the team quickly understood the value in giving creators a place where they would be respected and find it easy to do business.
The creation of SinParty was business-focused. Adult content is a huge chunk of the content on the internet and one of the most searched-for terms online.
Knowing this, we set out to make a place that helps creators capitalize on trends and monetize the spicy videos and photos they make.
We launched to the creator community in March 2022 and have been improving the product ever since. We've built strong relationships with thousands of creators and have even been featured on a couple of sex-positive, creator-focused podcasts – check them out here.
How do I join SinParty?
To become a creator on SinParty, you simply need to follow our three-step process to create your account.
Once you've completed that, you need to complete your ID and age verification on your dashboard. Then, you're good to go! Share your new profile on your social media, add it to your links pages, and send your fans to your hottest new platform.